Simpsonovi / Simpsonovci / The Simpsons online
Seriál Simpsonovi / Simpsonovci / The Simpsons online zadarmo (CZ - SK titulky )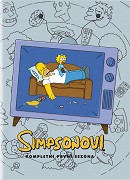 Popis seriálu online:
Natvrdlý leňoch Homer, pedantská puťka Marge, drzounský Bart, prechytralej Líza a roztomilá Maggie – to sú členovia rodiny najslávnejšieho a najpopulárnejšieho animovaného seriálu Simpsonovci.
Už dvadsať rokov sa ich milióny fanúšikov na celom svete nemôžu nabažiť a v pravidelných intervaloch nakukuje do zákulisia legendárneho Springfieldu, aby boli svedkami neuveriteľných dobrodružstiev bláznivé, ale napriek tomu vlastne normálne americkej rodinky. Simpsonovci si získali svoje obecenstvo predovšetkým neobvyklým a trochu drsným humorom, s ktorým vykresľujú typickou americkou rodinu z mestečka Springfield. Tá sa skladá z piatich úplne odlišných ľudí, pre ktorých je občas poriadne ťažké sa sebou vyjsť. Nehovoriac o ostatných obyvateľoch mesta, v ktorom to naozaj neustále žije – je tu vlastné upadla kultúra, skorumpovaná politika, drsná mafia a lenivá polície, ale aj prostí občania, ktorí sa každý týždeň chodí kát do miestneho kostola. V neposlednom rade si môžu diváci všimnúť jedného všadeprítomného detailu – Simpsonovci totiž takmer v každej scénke niečo alebo niekoho parodujú – či už ide o svet filmový, hudobný, politický, ale aj náboženský. Tvorcovia seriálu sa skrátka s veľkou odvahou púšťajú do neustálych provokáciou osôb a inštitúcií z reálneho života.
Serialdog.eu vám praje príjemnú zábavu pre sledovaní online seriálu